Building Your Business Relationships Using Collaboration
Always start with something small ...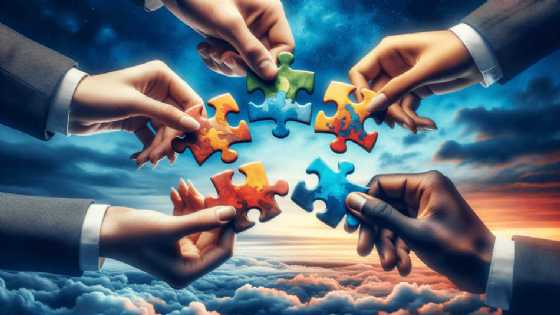 One of the phrases I use when describing what we offer our clients is how to build their business through collaboration rather than competition ...
Comments: Views: 252 Shares: 10
Networking: I Don't Do Small Talk!

I wish I'd got a pound for every time I've heard that phrase. It's a common reason given by people who dislike networking because they see the banality of talking about nothing ...
Comments: Views: 1,744 Shares: 7
Have You Put Off Adding Videos To Your Marketing?
As soon as the camera is facing me, I turn to wood ...

I've been putting this off for years! Why? Because it makes me feel uncomfortable and when I feel uncomfortable I can procrastinate with the best of them ...
Comments: Views: 400 Shares: 7
Referral Marketing: Who Can You Recommend As A Speaker?
One way to build your referral reputation ...

I've started a new cohort of people on my Referrals for Life programme that gives people a systematic business process to build relationships that turn into a flow of business ...
Comments: Views: 391 Shares: 9
Unconscious Competence Can Be Bad For Your Business
Do you apply your business methods without thinking?

This week has been exciting on two fronts. It was the first session for my new students on our Referrals for Life programme and Leah Mejias joined me as a consultant coach with Asentiv ...
Comments: Views: 330 Shares: 10
Referral Marketing: There's No Such Thing As A Free Lunch
You always get what you pay for ...

Networking is a cheap and easy way to get new clients; any fool can do it. All you have to do is pay out for a few breakfasts or go to some of the many free seminars ...
Comments: Views: 2,775 Shares: 9
What Keeps You Going In Your Business?

Over the weekend, someone shared with me a poster that compared running a business with an iceberg. The author wanted to make the point that all other people saw was the success ...
Comments: Views: 637 Shares: 6
Promoters: Yes, We Like To Have Fun
But we're more than just party animals ...

Happy New Year! Definitely a celebration that was made for us Promoters. It's all about the new, going forward, fun, excitement, kissing, fireworks and lots and lots of people ...
Comments: Views: 508 Shares: 6
Nurturers: Loyalty, Trust And Plain Good Manners
The power of being quietly caring ...

Two managers I worked with had fallen out after working together amicably for many years. They got to the stage where they wouldn't be in the same room together ...
Comments: Views: 787 Shares: 14
Examiners: Can You Give Me More Information?
A step-by-step walkthrough ...
If that is your response to someone telling you about their business, then you are exactly the sort of person I want to address in this week's blog post ...
Comments: Views: 687 Shares: 14
Go-Getters: It's All About Results, Results, Results
And you don't have time to waste ...

This will be a short blog post this week because I am talking directly to the Go-Getters as you are people who want results and don't have time to waste ...
Comments: Views: 614 Shares: 8
People Skills Are Good For Your Health As Well As Your Pocket
Do you have high social intelligence?
One of my favourite sensations is that moment when I catch my husband's eye across a crowded room and we both know what the other is thinking. The feeling is visceral ...
Comments: Views: 634 Shares: 9