Promoters: Yes, We Like To Have Fun
But we're more than just party animals ...
Happy New Year! Definitely a celebration that was made for us Promoters. It's all about the new, going forward, fun, excitement, kissing, fireworks and lots and lots of people; preferably some you know and some who you just know are going to be great to introduce into your circle ...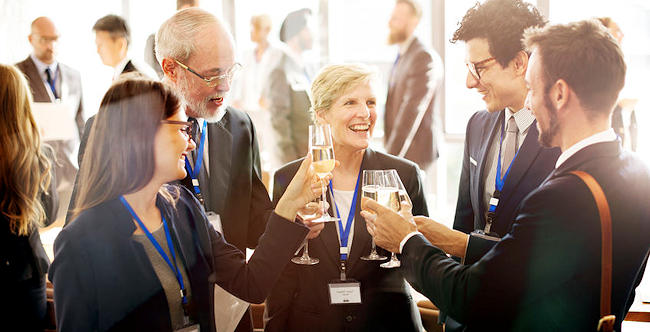 copyright: rawpixel / 123rf stock photo (licensee)
If that freaks you out, all I can say is "Ba Humbug! Get a Life!" We all need to lighten up a bit and add some exclamation marks to how we do business!
"To get a tiny bit more serious, in this last of my four blog posts on behavioural styles, I want to introduce you to the Promoters!"
As this is my preferred style, it will be easy for me to get carried away with my own enthusiasm. Bear with me and forgive the poor grammar and odd mistake, just try to get the gist of what I am saying.
We Promoters are fast paced people people. We seem to know everyone and if we don't know them already what a wonderful opportunity to get to know them. And what's more we are delighted with the chance to introduce them to you too.
You need us in your network for lots of reasons. Firstly, we add energy and secondly, we will make sure you're included. Thirdly, we make the connections you didn't even realise were there! (OK, with some reluctance it's time to lose the exclamation marks)
So what's the best way to get us on your side? We love stories and anecdotes. So tell me stories that demonstrate how what you do helps other people. Those of you who have met me will surely recognise this. If you drone on about what you do I glaze over. It's not that I'm not interested, it's that I don't process the information that way.
Give me an anecdote about a client problem and what a difference your product or service made and I perk up. I suddenly get it and often pull out a new angle there and then that you hadn't thought about. I'm off and running, thinking about who I can introduce you to who can help you. I rarely come away from a meeting without a promise to introduce you to someone.
The trouble is that I do this all the time with more and more new people. It's really easy for me to get distracted with my new chums, and yes, I know I shouldn't, but they are so interesting. If you want to build a more meaningful relationship with me - one that turns into real opportunities - then you need to hold my attention.
What the best way of doing that? Take the initiative and keep in touch, give me attention, reciprocate and recognise my contribution. Givers Gain® was invented for us Promoters.
Here comes an anecdote about two people I helped. One I gave some advice that turned a relationship on its head and led to business. He went out of his way to keep me informed about it going forward, and publicly thanked me at a networking event, including a testimonial. I'm highly motivated to help him again.
The other person I helped, I gave a referral for that turned into business, and they have never so much as given a squeak of thanks or feedback despite me asking. Oh well, never mind, move on; there's plenty more people to connect who will acknowledge me.
"A great tip to work with us is to invite
us to your events!"
We will usually pitch up as we like events. No, don't send a general invite. We get so many we mean to respond, but move on quite quickly. Send it personally or preferably invite us when you see us. We're much more likely to act on it. Oh, and chase us for the details we promised about an event we invited you to when we were talking.
Yes, I know that's inconsistent, but at the start of our relationship you have to do the follow up because we get so easily distracted.
Now, fellow Promoters, we need to recognise that if we're not careful we do look like a slightly chaotic party animal with no depth. We need to recognise that others need more time and often a lot more detail.
Examiners need to give you the detail so be patient and listen. Be prepared to give them hard facts as well as stories.

Nurturers will define you as rude if you forget the follow up and, whilst needing a private thank you, will not respond well to an over effusive public fuss.

Go-getters get irritated with us when we don't focus.
And no-one, but other Promoters will like the exclamation marks!
As a promoter, you should take the time to check your emails and communications. Others struggle to read your content if there are typos. I remember writing a proposal for a really exciting (to me anyway) project for my boss many years ago. She returned it with red circles around the 'it's' that should have been 'its' and no comments at all on the idea.
"So what value are Promoters to
your business?"
A client told me this story about a Promoter he met on a train. This man introduced him immediately to a really good business opportunity. My client, a Nurturer, remembered to say thank you and to keep in touch and as a result, has had continuing work from that chance encounter ever since.
If you're thinking of improving your networking and referral marketing skills, then do get in touch with me on 0333 335 0416 or click here to drop me an email and let's arrange to meet soon.
Oh, and a happy new year!
Until next time ...
JACKY SHERMAN
I help people build and maintain productive working relationships both with their work colleagues and with a wider network to win more business. I do this by combining my skills in coaching, mediation and training with my extensive experience in senior management.



What I love most about my work is when my clients get those "aha" moments because I know they have seen for themselves the way that they want to move forwards. Then they will achieve their ambitions.



Helping people who are having challenges with their working relationships gives me enormous pleasure. It was my privilege when working in health care to see how people working together can make the impossible seem easy and accomplish miracles as a result.



So helping people build or restore strong relationship with their colleagues makes even the hardest work easier, alleviates distress for the individual and reduces problems for the whole organisation.



In all this work trust is an essential ingredient to winning business so most of my work comes through referrals. Referrals come through strong business relationships so it was a natural extension for me to work with Ascentiv and train others in how to get consistent and predictable referrals from their network.



What a fantastic way to earn a living!