You are the reason your business succeeds
Your business is all those services that you offer your clients and those interventions you do to resolve their challenges. Your aim is to provide the best value for money whilst making a profit for yourself.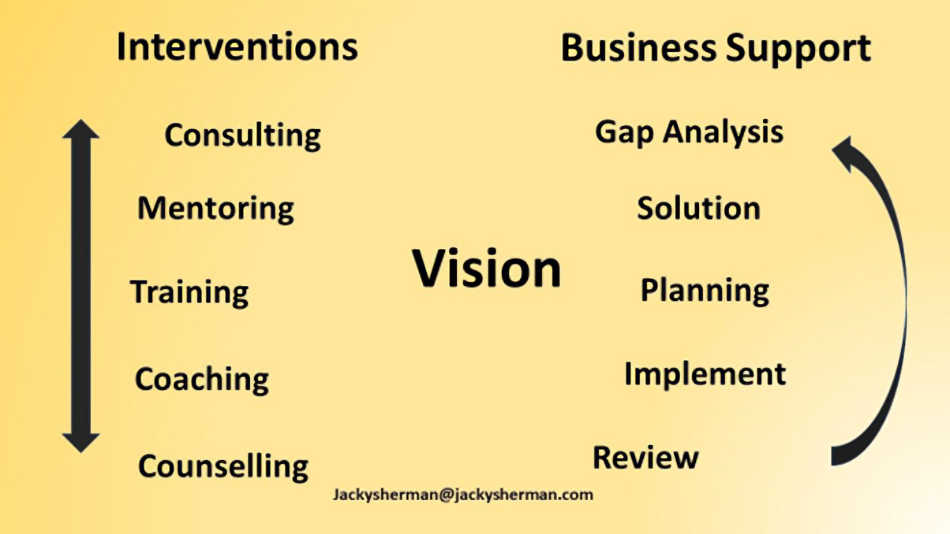 You bring all your resources, knowledge, experience, values and beliefs to choose how best to deliver this and get your clients coming back for more. You get your drive and determination from how this moves you closer to your vision and your sense of purpose in setting up your consultancy in the first place.
My contribution is to work with you on the interaction between you and your business to get the best result possible. The diagram above demonstrates how I do this.
Do you have a vision? If you don't know where you're heading then how will you know how to get there? Central to our work is getting clarity around what you want your business to achieve for you and your clients long term.
So what needs to happen in your business to achieve your vision? We will work through a deceptively simple process to get you the result you want.
Gap analysis - identifies the gap between what you want to happen and what is happening now

Solution - clarifies what you need to have in place to close that gap

Planning - is the step-by-step actions you'll take

Implementation - is what you actually do

Review - is what worked and what didn't and what was the reason

The Arrow - Is repeat what worked and ditch what didn't
The Learning interventions we choose depend on the nature of the issue we're addressing and the stage you've reached in finding a solution. I give you new knowledge, skills and access to expertise that you don't currently have using the whole gamut of learning interventions available.
Consulting - to analyse your issues, diagnose the cause and recommend the options

Mentoring - to add in my experience and extensive access to external expertise

Training - to give you new skills to deliver your solutions

Coaching - to access the 95% of your brain hidden from view and strengthen those pathways that help you and eliminate those that just get in the way

Counselling - in the rare times you may need to heal the psychological impact of past experiences before moving forward I would advise you on how to seek appropriate help
Our one-to-one sessions are usually online and between 1 and 1½ hours and we work at a pace that suits you. This means that you choose the time and frequency of each session as we go along. You can increase the sessions or take a break anytime you wish and there's no binding contract.
Would you like to know more?
Imagine what you could achieve if you had more clarity and confidence in how to tackle those challenges and had someone to cover your back as you progress your dream.
Book a setup session with me by calling 07970 638857 today.