Nurturers: Loyalty, Trust And Plain Good Manners
The power of being quietly caring ...
Two managers I worked with had fallen out after working together amicably for many years. They got to the stage where they wouldn't be in the same room together. Imagine what that was like for their teams ...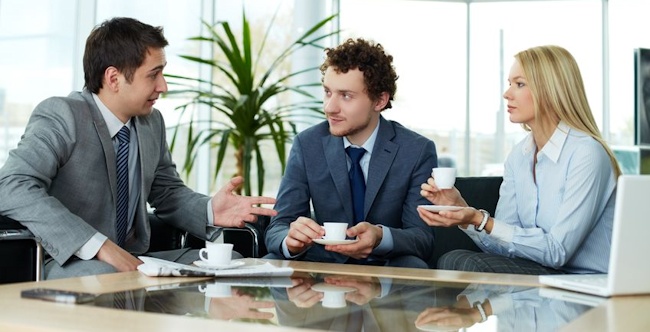 copyright: pressmaster / 123rf stock photo (licensee)
Changes in the company meant they had got really busy. One of them, a Go-Getter (see my blog of two weeks ago), had stopped adding 'Hi Chris' and 'Regards Jim' to his emails to his colleague, purely to save time.
"This had incensed Chris!"
He read this as, at best, just bad manners and, at worst, that Jim was ordering him about. Chris is an example of my third category of behavioural styles: a nurturer.
Nurturers are lovely people to have as friends, colleagues and as business contacts. They quietly focus on looking after others and take the time to get to know you and check you out thoroughly. Once they feel confident that they can trust you, they are intensely loyal and will go out of their way to help you.
As Jim discovered, forgetting the courtesies and taking them for granted will eventually provoke a reaction and it can be difficult to recover the relationship.
I don't know where I would be without the nurturers in my network. They are not prolific referrers, but each introduction is carefully thought through to match us up correctly.
"I get the feeling they have listened to me as there's no time wasting or vague possible leads!"
So here's a message to all the nurturers reading this, a little personal advice in getting the best out of the rest of us. Can I just say that despite our different approach to business and relationships, I really do appreciate the help you can give me? Thank you for taking the time to get to know me before judging me.
I need to move at a faster pace than you, so I may ask you to speed up a bit. If that makes your feel pressured, my intention is to get a result, not to bully or pressure you. Dig deep and find the resolve to tell me firmly what you can and what you cannot do at present so that I don't make you feel taken for granted.
I respect direct talking and call a spade a spade. To me, that isn't rude it's about honesty and I know you'll appreciate that. Make sure that I am hearing your needs too, sometimes it can be difficult to get you to tell me how I can help you in return.
I will probably make a bigger fuss about things than you like. Take a deep breath and understand that is because I care. If I publicly praise you, and you feel embarrassed, can you bear in mind it is because I take pleasure in letting others know how much I appreciate what you have done for me? Can you accept it with good grace?
"It's ok to let me know if I go too 'over the
top' for you!"
And if you're relating to a nurturer, tone it down a bit, pay attention to the little personal touches - no big shows - they don't like being the centre of attention. They don't like a big fuss, even when they've done something really special for you, but they do like the personal card you send them saying thank you for a kindness.
Add in the pleasantries. Say good morning, ask after them and recap on conversations you've already had before moving onto the purpose of your conversation.
Wait until they are ready to share personal information with you, so try a little self-disclosure first to test the water. Start small and grow your relationship together. Definitely don't pounce, take care not give too much too soon or ask for a big favour before it's offered. Give them time in both senses. First be patient as they need to get to know you well before committing to you. Yes, to a real nurturer, it is about commitment.
They also need you to give them some of your time in the sense of not being in a hurry or being too busy to make contact. They are great listeners and need that from you too before they will open up about their own needs.
Be loyal. Once you're in their group, team or have established friendship then they will stick by you, so make sure you do this too. Beware setting up perceived conflict of loyalties or confrontation in their relationships with your and others. Be clear on the boundaries and expectations of the relationship as they will stick to them. and expect you to do the same.
"Thank you so much for your time reading my blog posts this year and I hope you have a wonderful Christmas!"
If you're thinking of improving your networking and referral marketing skills, then do get in touch with me on 0333 335 0416 or click here to drop me an email over the holidays and let's arrange to meet in the new year.
Until next time ...
JACKY SHERMAN
| | |
| --- | --- |
| PS | If you want to learn more about how to relate to people who have a different style to you, reduce misunderstandings and help others to feel at ease working with you, why not come on my workshop on the 27th January? |
I help people build and maintain productive working relationships both with their work colleagues and with a wider network to win more business. I do this by combining my skills in coaching, mediation and training with my extensive experience in senior management.



What I love most about my work is when my clients get those "aha" moments because I know they have seen for themselves the way that they want to move forwards. Then they will achieve their ambitions.



Helping people who are having challenges with their working relationships gives me enormous pleasure. It was my privilege when working in health care to see how people working together can make the impossible seem easy and accomplish miracles as a result.



So helping people build or restore strong relationship with their colleagues makes even the hardest work easier, alleviates distress for the individual and reduces problems for the whole organisation.



In all this work trust is an essential ingredient to winning business so most of my work comes through referrals. Referrals come through strong business relationships so it was a natural extension for me to work with Ascentiv and train others in how to get consistent and predictable referrals from their network.



What a fantastic way to earn a living!