Does It Really Take 10,000 Hours To Master Networking?
That's five and a half years of solid practice ...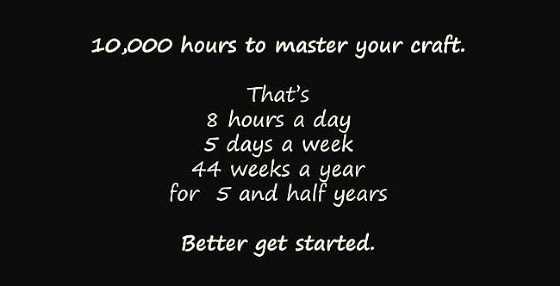 Most small businesses rely on referrals to gain their clients. Yet most invest very little in acquiring the skills necessary, let alone refining them through continuous learning and practice ...
How Trigger Words And Images Can Get You More Referrals
Put the right messages out there, consistently ...

One of my favourite expressions I first saw on a Royal Mail advert many years ago. It was an unexpected gift arriving by post with a message, ''I saw this and I thought of you'' ...
Networking Skills: Save The Detail For Your Private Meetings
Focus on the whole meeting ...
''I hate networking, it's so artificial and superficial.'' I often hear that, and as I usually talk to people when I'm networking I do wonder why they are there if they dislike it so much ...
Closing The Sale: The Impact Of Decision Fatigue
Something consultants know well ...

I recently had a breakfast networking conversation with Natalie Pewsey (virtual PA to many consultants), about a common, frustrating phenomenon called decision fatigue ...
Networking Tips: Come Out Of Your Comfort Zone
Sometimes you just need to face your fears ...

Most business leaders know that in order to develop their business they need to develop their own skills. So what stops some people taking the plunge? Imagine a baby elephant rescued in the S ...
Networking Skills: Don't Waste My Time

One of the most precious commodities we have always seems to run out just when we need it most. I'm talking, of course, about time. I never seem to have enough of it ...
Is It Better To Work From Home Or Rent An Office?
Moving out of my comfort zone ...

After 15 years of working from home, I moved into my own training room this weekend. It feels like a time of new possibilities. It also feels a little strange ...
How To Achieve A Spectacular Life!

Asentiv has a mission statement. It's a statement of what we do and how we do it. Our intention is to build communities that generate amazing business and a spectacular life ...
Business Networking Skills: Getting To Know You In 4 Minutes
It's a simple process that offers great results ...

I'm indebted to Phil Burton for inspiring this week's blog post about business networking skills. We were practising an exercise to quickly build a bond that starts a relationship ...
Working with Asentiv: A Great Business Opportunity!
Who do you know who would like to find out more?

I ask this because I'm recruiting at present and looking for two people to join me working with Asentiv. And before you switch off, I'm not just pitching for people to buy a franchise ...
Networking Skills: Focus On Your Gold Dust
By spending time with the right people ...

Your business time is precious right? So it makes sense to spend your networking time with people who will bring you a return for your investment ...
Consultancy Skills: Are You A Victim Of Your Own Success?
Are you stuck in a vicious circle?
''I've got a great new contract so I'm going to be off the scene for at least 6 months, maybe longer.'' I often hear this. It's a time for congratulations and a warning ...